Ok, better late than never they say. With the holidays, work and the bitter cold weather I slacked off on the blog. I kept up with my Instagram account-that's just easy, right? Well I'm here to share some of our Christmas décor from this past holiday. I kind of miss the warm, twinkly lights still. It's been so cold here and I'm not ready to bring new, fresh color into my home yet. I'm still in the hunker down, stay warm by the fire, lodge feel. :)  I'm sure some of you can relate. Let's begin the tour, shall we?
We'll start with the bedrooms.
I love the pop of red. I feel it warms the room and brings cheer and happiness. I found these pillows at TJ Maxx and the throw at Kohl's. I don't have room in my bedroom for a tree, but I have room in my loft!  I got this white tree, which I wanted for a long time, at Wal-Mart on clearance last year for $4!! Including ornaments and lights I decorated this tree for about $10.  That's my kind of decorating!
My daughter, however, made room in her bedroom for one of her trees. Simple and lovely. I love the Ralph Lauren throw she got at HomeGoods.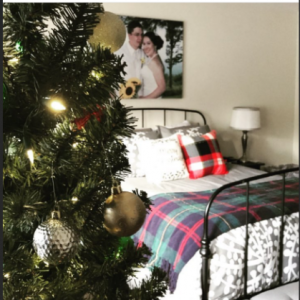 Little touches around the house: I like the rustic look my daughter put around her place.
My mom's original Johnny Mathis Christmas album sits against our vintage record player. I love the classic Christmas songs and artists: Bing Crosby, Andy Williams, Dean Martin singing Baby It's Cold Outside :) Now that's tradition.
Speaking of tradition, this is mom's tree she made in ceramic class in the early 70's. Who else has one of these at their house or their parents? These made a huge comeback in stores this past year. Most are made of resin now. It's just not the same.  I bought my daughter a mini version of one. We saw it when we went to the fair. She fell in love with it so naturally I had to get it for her.  :)  I will eventually inherit my mom's, when they are ready to let it go. I have the perfect place for it when it arrives.
A little glimpse into my living room all decorated. Lighted garland across the TV made it a little more cozy and lit the way to the stockings. ;)
The DuraFlame stove keeps the room warm and toasty on those cold December nights while we watch our Christmas movies.
The white lantern is lit with a Luminara candle. It's so realistic my husband thought I forgot to blow it out before bed one night. LOL

I highly recommend them. You can click on the Amazon tab above to order yours today!
I got the lantern at Target on summer clearance. I use it year round with different décor inside according to the season.
The tree is fake. I've done the real tree thing and at this point in my life I don't want to deal with the mess or watering it every day. I've had this for 12 years and get compliments on it constantly. It's very full and the needles look like a real tree. I add my own lights to it since the prelit ones finally died. I love color lights too so it's perfect for me to add all the white and color to it.
I was at Hobby Lobby and found this garland. It was love at first sight and the fact that it was 50% off sealed the deal. I put one strand behind the couch over our hanging window pane. The other I used on our stair case. I got some battery operated lights with a timer and laced them into the garland. I decided this wasn't just Christmas, it has a rustic, lodge feel. I kept it up for now.
Finally, the outside. Brrrr
I put candles in the windows and lit the front bushes. My neighbor has one of those Star Shower lights. It crosses over onto our front yard. It's pretty cool actually. The back deck just has a simple lit green garland. That stays up until March or April. I love to have lights out there and the next set that goes out are my dragonflies. It seems wrong to put those out too early. Plus sometimes the garland is frozen and I have to wait for the thaw. Haha
As you can see, we had the perfect white Christmas.
I hope you all enjoyed your holidays. Wishing you a Happy and Healthy 2018!
Thanks for stopping by!