It's a new year to reinvent yourself, try something new. Why not start by looking and feeling your best with our picks for our favorite makeup. We'll start with Ashley's pix first:

L'Oréal True Match LUMI- This foundation has a nice dewy full coverage.
It's great for dry skin and most important, SPF 20.
Milani Baked Blush- This has good pigmentation at a great price.

Clinique High Lengths Mascara- If you need full volume, this is the one
for you. It makes you look like you have false lashes on. Who doesn't want that?
Anastasia Brow Wiz- Ashley likes the precision of the application.
Now for Sue's pix: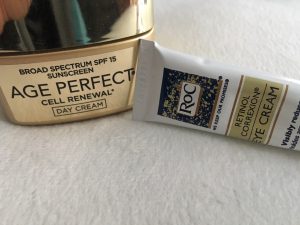 For my more mature skin I start with a good base. I use ROC eye cream morning
and night for that sensitive under eye area. L'Oréal Age Perfect day cream for the
rest of my face and neck. (don't forget the neck area! That needs protecting too)
It has SPF 15 and sunscreen. Great for aging skin. I sound like an old lady, I'm not
but I don't want to look like one either! LOL
A little it Bye Bye undereye to brighten my eyes before
I put on my foundation…
Next I use Rimmel Stay Matte primer. This really sets the foundation
in place. I recently discovered Maybelline FIT me! foundation. Its matte
finish is great for my oily T-zone. Finish it off with NYX mineral powder
and I have a great natural face.
I always wear eyeliner and mascara. ALWAYS! True story, I was
having a kidney stone in the middle of the night and had to go
to the ER. Yes, as doubled over and in pain I was in I put on eyeliner.
Initially the nurse said there was no way I was passing a stone because
I had time to put on makeup. I proved him wrong. LOL
I really like L'Oréal Infallible Super Slim liquid liner. It's great for
the delicate skin around the eyes because it doesn't pull. It goes on
so smooth and you can easily control it.
Wet n Wild MAX Volume mascara makes my lashes pop! I love the
volume it gives and it doesn't clump. Bonus!
Oh ya, did I forget to say I never leave the house without lipstick
either? hahaha  I think I get that from my mom. I just feel finished
with some color on my lips. I have dry lips so I start with a light coat of
Carmex to smooth my lips. There are many brands of lipstick I like.
NYX Butter goes on so creamy and it has nice pigment. I like most of
their lip products and there's a lot of colors to choose from. Stila Stay All
Day liquid lipstick goes on wet and dries matte. It has excellent staying
power, mine lasts all day. I highly recommend this if you're going out
on the town and don't have time to touch up.
And finally, I always put lotion on after my shower. I really like Jergens
Ultra Healing. It's not heavily scented and works great in the cold, dry
winter months. I use it daily in summer, spring and fall too! If you keep
your face looking young, you need to keep your body just as radiant and young
don't you think?
Thanks for visiting! I hope we gave you some inspiration and great ideas to try out.