My friend called and said she needed some help with decorating her new built-ins her husband made. I can't describe the fun I had running through HomeGoods with my phone taking pictures of anything I thought she might like. I hadn't seen them in person and didn't have dimensions yet but the thought of shopping for someone else excited me.
I met her at her house. After getting an idea of what she liked, her colors and the size of her shelves, we headed out to HomeGoods. Time to take her out of her comfort zone. :)
Here is what it looked like before. Lots of personal pictures and art that her kids had made and she had framed. The art was staying for sure.

After shopping I cleared off the shelves.

Time to organize what we bought with the things she already had.
They had ashes of two family dogs that they kept in wooden boxes on the shelves. Her daughter
found this white ceramic dog while we were shopping and thought it would be a nice addition to the shelf.
She also got two silver frames and framed the picture of each dog and put it on top of their boxes.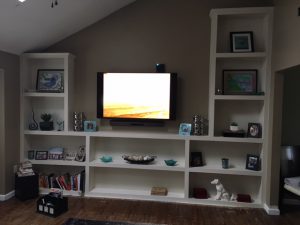 My friend found some branches at Michaels for the vases to give height next to the TV and rearranged the books on the bottom shelf
to finish off the look.


Since there were a lot of metal and glass, I brought in a few wood elements and a small plant to give life to the shelves.
We had a fun time shopping and I liked taking her out of her element to experiment. She's happy with how it all turned out.
Isn't that what matters most.  :)