Well Spring is trying to make its appearance here but after a few beautiful warm days, it has decided to turn to showery, cold days again. (at least it's not snowing!) We opened the lake house this past weekend but alas, the weather has kept us from enjoying it just yet. Future post about the lake coming soon. (hopefully)
Meantime I put the winter décor away and brought out some flowers and beachy colors.
I saw the grass first then I fell in love with the base to this grass plant. It reminds me of the beach.
The pink vase has a "bubble" pattern that reminds me of the drinking glasses we had growing up (but
in 70's olive green) I added some sparkly vase filler to help the light bounce around inside.
My husband's aunt didn't want this old fashioned stereo/record player so we took it, dug out our old albums
and throw them on occasionally. I like playing albums like I did growing up. Pretty cool. :)

I decorated my sideboard with gold and white. It looks clean and bright. Most of this décor is from HomeGoods/TJ Maxx
and Marshalls. Pineapple from Hallmark.

My friend made this bouquet for my wedding. I thought to put it in a vase with sea glass
and display it. It helps brighten a corner and goes well with the beach theme. It's also a nice
reminder of my wedding day and how perfect it was. :)

This clock adds a little sparkle for the corner with my wedding bouquet.

My shelves now. I'm sure I will change them out in a month or so. Assorted shells in the sea grass
basket. Collected from Maine, South Carolina and shells and coral from Anguilla. (My coworker has
a house on the island. I might get there someday)  :)   I saw the sailboat at Target and the color was perfect.
Also from Target is the large opalescent snail shell I got on clearance and lantern with candle.
Wood sign, "Frame your life with Faith"-Marshalls
Oyster Pearl tray and cake plate-HomeGoods
Blue geode and "Live your Dream" sign- TJ Maxx
And I had to add my Jim Shore dragonfly. Ask anyone, I love dragonflies and they represent summer, so
they go with my décor.

My coffee table tray (for now).  I like the rustic wood and metal mix. You see succulents everywhere
these days so I jumped on the bandwagon.  I liked the color of these and the stone container they came
in goes with the natural feel. I added a little sparkle with the "&" and Hello Beautiful sign.
Tray-HomeGoods
Hello Beautiful glitter sign- TJ Maxx
Silver glitter "&"-Target
Succulent-Michaels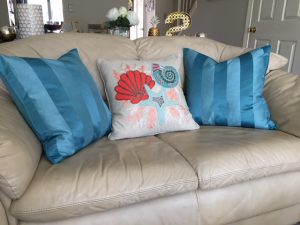 Beaded shell pillow from HomeGoods. I love the colors and the bit of sparkle!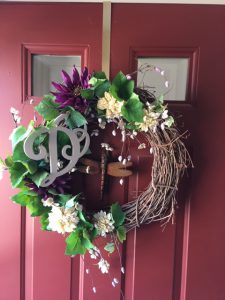 I had to dress the door for Spring even though it's too soon to plant outside.
My sister-in-law made this for me. The colors are perfect!
How will you decorate for the change of season?