Welcome to our Fall home tour of 2017. Come on in and get cozy.


Ashley saw this wreath and really wanted it. I found it at Pier 1 and surprised her for her anniversary. Before I gave it to her I played with different ways to display it. Here are a few examples.

I think it looks beautiful as a centerpiece. I put it over a mirror on my dining table and added a Luminara candle in the first photo. It gave a nice reflection of light. Next I added a candle holder and a decorative pumpkin candle in the middle. I hung it on my basement door which is visible from the living and dining room. It really added a nice touch of Fall to the house. And last, I think the color looks great on MY front door against the burgundy. I thought of keeping it…but I knew how much she wanted it so I gave it to her. :)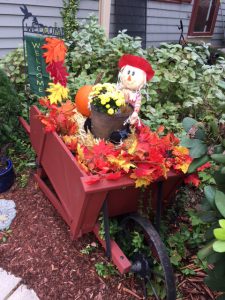 On the way up my sidewalk I added a little scarecrow to greet you nestled in some fall leaves and sitting on a haystack. It's lit in orange lights at night. I love the warm glow it gives. On the other side is a pumpkin with a Happy Harvest greeting.


Does this door look familiar? The magnolia leaf wreath is gone and replaced with this harvest wire pumpkin.


It got chilly so I had to bring the fireplace back into the living room. A Fall candle ring from Hobby Lobby and some fabric pumpkins from Target warms up the space.

A few fall branches in this vase brightens the space between the living and dining rooms. Add a shiny pumpkin candle and a mustard color throw in the basket to appease the senses. :)


Lets finish off the living room with my new table.
Now onto Ashley's house.


I love this blue vase with the perfect colored red/orange branches. Such a great color combo, don't you think? I love the wooden pumpkins with the bit of glitter on them and the wood WELCOME sign in Fall colors. Very rustic. And of course you need that Fall scented candle.
A simple lantern with pumpkins and a candle sit next to the TV stand draped in Fall garland. A shelf above welcomes Fall once again.
Now into the dining room…


A boxwood wreath hangs over the mirror while a cozy candle burns in a wood tray decorated with pumpkins and pinecones on top of a Fall table runner.
I hope we inspired you to decorate and make your home warm and cozy and thanks for visiting!