I love this time of year. The tinkling bells, sparkly lights, decorating, wrapping presents, Christmas carols singing of the joy of the season. Family get- togethers and of course the birth of Jesus. The real reason for the season.
Let me show you how I decorate my house. I also threw in a few pictures of mom and dads house: Memories of growing up.
First the bins come up from the basement. These are just the ornaments and garland. All the other décor is stored in various places in the house. Then the tree came up but it's in an ugly bag so I didn't take a picture. LOL
Here is the finished product. You don't really need to see the process. I got this prelit tree on clearance about 10 years ago and this year all the lights decided they had enough-not one light lit up. hahaha  But that's ok because I had lots of string lights that I added to it in previous years. Plus I like white and color lights together.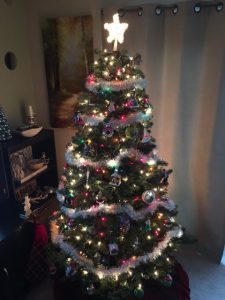 A few of my favorite ornaments:

Hallmark ornament from 2015. Feels so warm and cozy.

My daughter made this icicle in kindergarten. It has sentimental meaning :)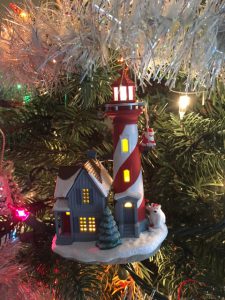 More Hallmark ornaments. I love lighthouses and this one lights up so pretty. Of course the classics: Charlie Brown Christmas where Linus recites Luke 2:8-14 (my ornament recites those verses). And the always loved, Rudolph.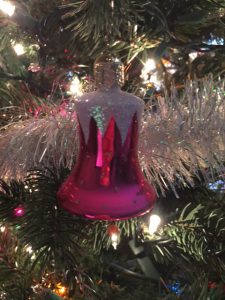 Images from my childhood: Shiny Bright ornaments. :) If you look close in the next picture you may see some original Shiny Brights!
Dad's tree. A lot of original ornaments and some new ones too.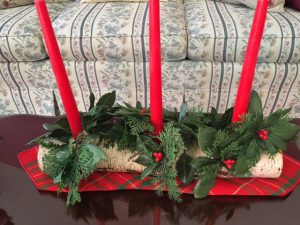 We had this birch log on our coffee table every year. Red candles for Christmas.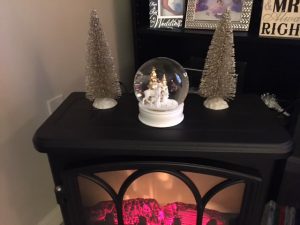 I got these bottle brush trees at Target. The snow globe was from HomeGoods. They donate half to St. Jude's.
My brother cut a birch branch into votive holders and my sis-in-law decorated a tray with 'snow' and pinecones for a finishing touch.
The NOEL sign was a Target find last year and those deer I found at AC Moore. Besides my snow globe, they are my favorite addition this year.
A little sparkle for the corner.  I found this sign at AC Moore when I was buying my deer.  I got a great deal on the potpourri while I was there too. It came with some pinecones and an ornament to add a little extra.  Smells great too! And both were less than $10 total.
Now for the outside!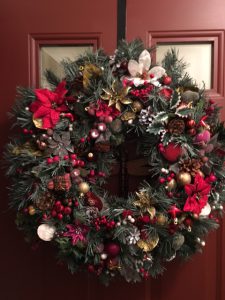 ok, technically this is still inside, but I keep the door shut so you see it from the outside. :)  My BFF made me this beautiful wreath!

My talented brother made this wheelbarrow for me. I filled it with greens that my dad picked for me and some berry picks I got at AC Moore. I lit it with prelit garland I got cheap at Home Depot.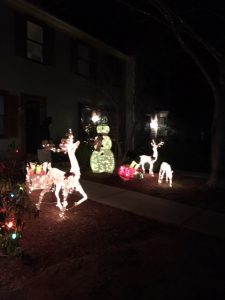 Living in a condo you don't have a lot of options but we have some bushes out front to light up and our neighbors are awesome and went to town with the deer and the snowman.  They even got one of those laser lights that shines red and green and have it aimed in the tree. It looks like there's glitter falling from the tree. It's really amazing! For the past few years I had little white trees lining the walkway but they only last one season and they aren't cheap. So until I can find a better alternative we only light the bushes.
I hope you enjoyed the tour.  I'm sure something will move or a new item will be added by the time Christmas comes. I'm always looking and plotting and moving things.
Our wish is for you to have a Merry Christmas and a healthy and happy holiday season!