Do you notice how things just get shoved into a closet and eventually stuff just overtakes it? This is the story of my linen closet. I know most aren't very big but I have to say I think mine is smaller than most. At least not as wide.  That's my story and I'm stickin' to it. :)  Come along and let me know what you think.

I started by trying to find racks that would fit our narrow door. Most were 18″ wide (seemed pretty standard) but our door is 18″ wide so I wouldn't be able to close it! I found these small kitchen racks at Lowe's and decided to give it a try. My hubby was so good at installing them for me. Now to fill them up!

I also got a few baskets to brighten up the small hole I call a closet and store things neatly.

So this is the chaos of my closet. Soooo much stuff jammed in here. OK, what do I purge? I got a garbage bag and went to town.
So many towels and sheets I never use. One set that are 20 years old!! But they're in great condition still! *sigh We can use some for rags or painters drop cloths but most we will throw. My sis-in-law gave me a great idea to store sheet sets. Once folded, place the sheets into one of the pillow cases. Now they are neat and all together. Brilliant!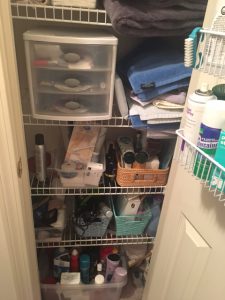 Well the pictures don't do it justice but it really looks 100% better. Nothing that won't be used in here.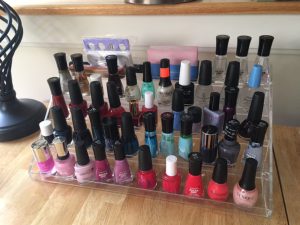 All of my nail polishes found a new home and freed up some space in the closet also. They are on my "desk" in my newly renovated loft. (See my Loft Project blog) It's the perfect space to do my nails and I love this display organizer that I got on Amazon.
I hope I helped you to feel motivated to organize your own space. :)