The sunburst mirror was named after Louis XIV, also known as the Sun King because of his love for the sun and its rays. Made popular in the 1920's, then again in the 60's, the mid century modern sunburst is making it's comeback once again. We are seeing many different shapes and sizes, and in gold, silver and bronze. Some are being used as a focal point or an art piece. We are seeing them hanging from the living room, bedroom and even the bathroom.  Where would you hang your sunburst in your home?
Sunburst Mirror- Wayfair $497.50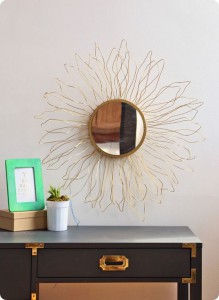 Anthropologie knock off-homemade.
Target-$89.99  I have this silver sunburst mirror as a focal point
behind my TV. I get lots of compliments on the retro look.
It doesn't have to cost a lot to look great!
Circle gold sunburst mirror looks like
sunshine in this room.
I love this classic look. I want this as my room.
Beautiful chunky look.  Great statement piece
for a living room or hallway.