I am so looking forward to Spring.  I mean real Spring.  It's 70 degrees today but they are predicting snow this weekend.  That is not the kind of Spring I want.  I want flowers and pretty colors that pop (and not from under the snow). LOL  It's hard sometimes to get in that mode when it's snowing out. I am going to post about the colors that go together and are hot in home décor this Spring and go to my happy place.
Lavender, Violet and Green
Lavender softens the royal color of the violet and by adding green
it creates a nice Spring feel.
Sherbet Tones

The combination of mint, sherbet orange and white
is timeless and has yet to go out of style.
Blush and Coral
This subtle contrast is popular in interior design and gender neutral.
Grass Green and Hot Pink
As a kid I had a pink and green bedroom. Today we are kicking it up with
more saturated hues making it more sophisticated.
Aqua, Tangerine and White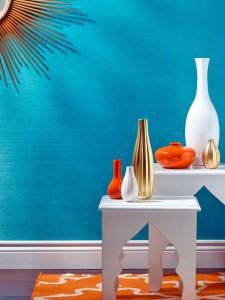 This picture courtesy of David Bromstad/HGTV
Bold and vibrant.  Looks great in modern spaces. Also a nice pick-me-up after
a long winter.
Spring Green and Gold
You often see gold paired with the colors emerald and olive but in 2016
we are making it fresh and glamorous by pairing it with celery or Spring greens.