Hello. My name is Sue and I'm an HGTV addict. LOL
I also like Houzz and Wayfair to check out what's up and coming. After some research and lots of TV watching I have found these things you are seeing more often so far in 2016.
Two tone kitchen cabinets:
I love the darker lower cabinets with the crisp white uppers.  It's warm, yet fresh, especially with
white subway tiles for a backsplash and glass doors for added interest.

Open Shelves:
With everyone wanting open concept, this is a great way to make the room feel larger.
You can display your pretty dishes/glassware and use it as a focal point: Art in the kitchen.
The use of raw materials like open wooden shelves go well with the butcher block
counters, which we are seeing more of today.  The new and improved counters are
much easier to maintain now. And personally I think it gives it a sense of warmth. among
all the stainless steel.

Statement Mirrors in the Bathroom:
This can give depth to a small space and work as a piece of art. Use it to compliment
your bathroom fixtures and you won't want to leave this space.  Leave your guests
saying "oooo la la, how do I do this?"
Last, but definitely not least, wood walls: (or as Chip and Joanna from Fixer Upper call it, Shiplap)
We're not talking your 70's paneling. No way. This is a modern, warm, fresh look that
adds texture and interest to any space.
Here you see it in a bathroom along with the before mentioned, statement mirror.

How about a reading nook?  Who wouldn't want to curl up with a good book in
this warm and inviting space?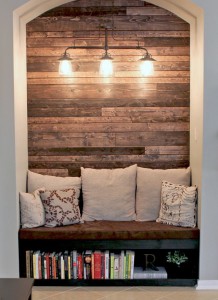 Add drama and texture in the bedroom. Who needs a headboard when you have such a beautiful wall.
You can be daring and continue it onto the ceiling for even more interest!